by Dot Cannon
Scare LA, Los Angeles' first summertime Halloween convention,, is always a great time.
But perhaps the best part of it, for us, is all the creativity.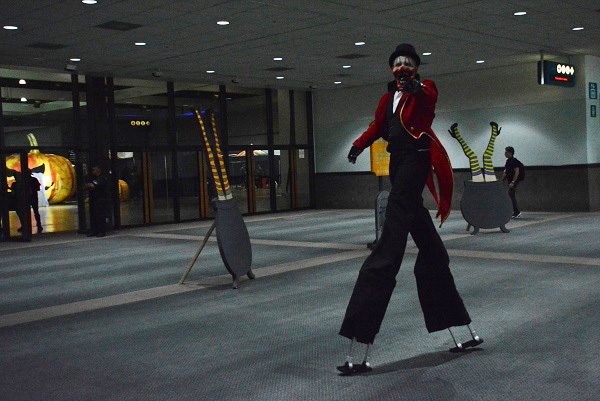 Here are our top favorites from this year's Scare LA Halloween convention, which happened in the Los Angeles Convention Center Saturday and Sunday, August 5th and 6th.
#10: "Boo Camp 101" and "201" classes, happening in the Movement Area on Sunday.
Ever thought of the physical considerations behind those scary characters in your favorite Halloween haunt?  Neither had we.
"Jumping out at somebody is great, but jumping out at somebody and going,  'AH-HAA-HAAAA-HAAAAAAA!' is over the top," counseled "hauntertainer" Drew Badger in his "101" session.    ("Over the top", in this case,, equals "excellent"!)
Later, in his advanced class, Drew (who is the co-founder of The Big Scary Show podcast, and has worked at both Netherworld and Hundred Acres Manor) would get into the "body language" of creepy.
"Let's all imagine we have a piece of string holding us up," he suggested.
Then, he took the class through different motions as that "string" suspended different body parts.  For a hero character, he said, the string would suspend the chest, making him or her stand tall.
But, "string" in other body parts could equal a zombie or other monster's physical reality.
"Let's see how well you walk around with your left ear held up like this," Drew demonstrated.
His class, walking in a circle, complied.  "That's cool.  A lot of you look dead."
(Incidentally, if you'd like some help giving your audiences chills, Drew's website promises, "I will make you scarier".  As owner of "Rabid Badger Haunt Consulting", he  trains haunt actors, provides scary voiceovers and designs haunts, year-round. )
#9 The use of AR, VR–and the amazing lines to see the end results, in this year's haunts.

Among the "experiences" using virtual reality to scare attendees were Flatline, which simulates a near-death experience, and "Float: A Cinematic VR Experience".
The line for "Float" was major, within minutes of the doors opening on Sunday morning at 11:00…
And, every time we passed by, that line just seemed to grow.
We also liked the "Clever Fox Augmented Reality Haunted House", though, we admit, our phone didn't seem to.
We heard various other attendees say they'd hunted and found more "ghosts" than the three that showed up on our screen.
#8 All the great ideas on the show floor.
Can you imagine that these bubbles, when they pop, emit fog?
Very cool!
We also enjoyed "meating" Brownbag Johnson, front man of "dirtcore" rock band "Graveyard BBQ".   Brownbag and his band have been crafting some thrashing rhythms since 2003.  They currently have four EPs–and they won SXSW's "Best New Underground Band" award in 2009.
But Graveyard BBQ is unique because they're capitalizing on their name.  Brownbag was standing next to his "Coffin Grill"–and he and his band host barbecue events for rooftop parties, weddings, birthdays and other celebrations.
And, what in the world is this line for?
Try "pumpkin crossbody bags"–and other cool things artist Kenny R. Avila hand-stitches!
His small business, Love, Pain and Stitches, had a waiting line during both days of Scare LA.  And we'd send you to his Etsy page, except he has a very enviable problem!
"I can't keep anything in stock," he emailed in response to a question from us.  However, if you'd like to know more about his incredible work, you can reach him on Instagram: @lovepainandstitches.
#7 "Dangerous D" and his equally-insane sideshow

Talk about a first impression!  When we met "Sideshow Cy" on the show floor on Sunday, he swallowed a sword for us.
After that, we certainly weren't going to refuse his invitation to "Dangerous D"'s show on the carnival stage.
We're not sure Darin Malfi, a/k/a "Dangerous D", isn't channeling Harry Houdini.
While his real crowd-pleasers include a mousetrap on the "second-most-sensitive part of the body" and allowing audience members to staple cash to his bare skin (ouch!), his tennis-racket portion of the show is our favorite.
How he ever got the racket down over his body (and past his piercings!) is anyone's guess.
His sense of humor is fun, too.  When fiancee Madeleine Manson demonstrated her balloon-swallowing abilities, at one point in the show, he exclaimed, "Holy smokes!  I'm gagging, I'm gagging!"
#8 From sword-swallowing to purrs
Awwww-kitties!
Both days of ScareLA, people were falling in love on the show floor, courtesy of nonprofit Kitty Bungalow.
A staff member told us that, by early Sunday afternoon, four felines had found forever homes.  However, she added, attendees tend to look at the cute furry purrers, then come back later and adopt.  So, while we don't have a final total of new "familiars" who have found their humans, that number may actually be higher.
(Can't quite get a cat as your own creative "mews", but would like to help?  Kitty Bungalow is building their "new school" now, and would love it if you could lend a paw!)
#7 Pitching to scare–and create

We don't know how in the world they'll make a final decision.
This panel of horror directors heard six pitches, on Sunday afternoon, during Scare LA's "Pitch Contest" on the Showcase Stage.
Just after the presentation on "Creating Monsters for the Big Screen", six filmmakers pitched their projects.  At least three of those sounded like shows we'd really like to see.
We were a little disappointed not to hear which of the pitches garnered its creator the $5,000 prize.  However, the panelists said, they'll announce the winner in a couple of weeks. on dreadcentral.com.
#6 "Scarywood"

This was an imaginatively-designed dark woodland–complete with a haunted campground, next to the cemetery.   Said cemetery was also the perfect setting for Unbound Productions' staged readings of excerpts from their upcoming Halloween shows.
And, of course, the haunts and "Decayed Brigade" stage were just outside, adding to the eerie atmosphere.  We loved Albert Reyes' original horror art, illustrating his haunt.
#5 Decayed Brigade and the Zombie Ballet
"Oh, we've seen this," we thought, as Sunday's Decayed Brigade zombie sliders show was about to begin.
No–we hadn't.
While Saturday's show was "The Dream", as detailed in our Day 1 post, their Sunday show took a different approach.
It started with a performance by the Zombie Ballet, who combined sinister and ethereal moves in one very cool performance.
Then, Decayed Brigade took "The Dream" into darker territory: "The Nightmare".
The gifted sliders of Decayed Brigade slid, vaulted and somersaulted through a scenario that elicited cheers from the crowd gathered around the stage.
#4  "Monsters of Times Past"
The Sunday-morning Showcase Stage presentation on "Halloween at the Ren Faire", took audience members back in time.
Along the way, panelists gave some excellent guidance for creating haunt characters.
"Fifty per cent (of your character) is what you internalize.  Fifty per cent is your external," said costume designer and Sterling Renaissance actor Kristi McHugh.
"What we're trying to show you is, costuming can go 'way back through history," said Renaissance Players director and panel moderator Sandy Armstrong.
Wielding a medieval weapon, Sandy demonstrated security principles for costuming.  "This is called a chennai.  I had to get a (security clearance to bring it in here).  No way should (a haunt) actor touch an audience member…Safety first."
Sandy also shared some of the history of current costuming with her audience.   Who knew that, at the end of the day, our current creepy clowns came from the sixteenth century?
"Commedia dell'arte, which originated in Italy in the 1490s," she explained.  "Clowns technically came from Punchinello, which is also commedia dell'arte."
Sandy, who has now worked with the Renaissance Faire for forty-three years, gave survival tips for anyone working a haunt or faire in an elaborate costume.
"Dehydration is not your friend," she said.  "So, when you're in a hot costume, drink lots of water.  (And) have you ever tried to go to the bathroom in armor?  Give yourself twenty minutes."
Renaissance Players actor Roy Davis said haunts and renaissance faires had a lot in common, for the actors.
"In each one, you're dressing up…you're messing with the audience."
Observation, he said, was key to being an effective actor in either.
"After working haunts for awhile, you observe where people's blind spot are and you can pop up out of nowhere.  (And make all the guests feel included.)  Go after the family with the awkward teenager or the older couple…gauge visitors' moods.  If you see…they're having a bad day, you can shrug or give a sympathetic nod."
Actor Brian Lee said he'd been doing Renaissance Fairs for over thirty years.  He and fellow actor/wife Andrea demonstrated the "Danse Macabre" from ancient European times after Brian explained its origins.
"(Back then), if you were thirty, you were an old person," he explained.  "(If you caught a cold, you might die.) So everybody dressed up as Death, to try to trick death, because people were very superstitious."
#3 Sins O' the Flesh
What Halloween fan in his or her properly creepy state of mind would ever want to miss a "Rocky Horror" performance?
Sins O' the Flesh performs every Saturday at midnight (of course) at Santa Monica's Nuart Theatre.  And this talented Los Angeles "Shadowcast" added a "spirited" interpretation of "Timewarp" to Sunday afternoon's festivities.
And then, Dr. Frank N. Furter made his introductory appearance–playing the role of the "sweet transvestite from transsexual Transylvania" to the hilt of his stiletto heels.
The audience responded with some well-deserved screams.   A few Angelenos may well be gathering party hats and confetti for a midnight trip to the Nuart, at this very moment.
#2 "Godfather of Haunting" Leonard Pickel's expertise
"Hauntrepreneur" and HauntCon founder Leonard Pickel has revolutionized the haunt industry. In his Saturday "Top 5 Things You Need to Know to Succeed in the Haunted House Business", he included tips that could be helpful for professionals and home haunters, alike.
"Make sure your actors are scaring (attendees) forward, so you can increase your capacity," he said.  "Always give an actor (a place to get away)."
Leonard, who says he's available to design haunts for this upcoming Halloween season, gave some decor tips, as well.
"You should never have a black wall in your haunted house," he advised.  "Black turns gray very quickly.  You use a lot less light in your attraction (if you don't paint the walls black)."
In addition, he said, there was an easy way to fool attendees' eyes.
"You can paint a black splotch (on the floor) and people will jump over it all night, thinking it's a hole."
#1 Inside the creative mind of John Murdy
Universal Studios Creative Director John Murdy always draws a capacity crowd for Scare LA's "Halloween Horror Nights" reveal.
But on Saturday, he went a dimension further, and talked about the creativity behind the mazes.
Due to a family emergency, John's creative partner, Universal Studios Art Director Chris Williams, had to miss the event.  So John took the stage solo, after an introduction by Unman Dane.
He mesmerized his audience, not only with the reveals of the new 2017 mazes (detailed in our earlier post) but with stories about his background and experiences as a haunter.
His fascination with horror, he said, started when his mother "parked him on the couch", as a small boy, to watch the 1932 Boris Karloff version of Frankenstein.   When she returned, John was crying.
"I felt bad for the monster," he explained.
After detailing his start at home haunting at ten and his first semiprofessional haunt, at the age of fifteen, John talked about his college career.
"My degree, believe it or not, is (in) acting," he said.
After college, John continued, he became a tour guide at Universal.  But the rest wasn't history–at least, not immediately.
"Ironically, I got laid off," he commented.  "Someone I worked with said, 'there's a small company, and they're hiring for a coordinator.'  I worked with them for five years."
His path back to Universal began with freelance writing.  Finally, Universal rehired him: "you're here all the time, we might as well hire you."
Talking about his past twelve years of creating Halloween Horror Nights, John showed the audience a slide of the real-life building that inspired him and Chris in creating one of their 2011 mazes, "La Llorona".
"Chris and I came across this in Texas," he said.  "I asked him, 'do you see what I see?'  (It looked like) two eyes, a nose and a mouth, and I go, 'Oh, that's cool'."
John showed the audience the finished product, inspired by the Texas maze.
In his presentation, he also answered questions he'd received on Twitter, about his work on "Halloween Horror Nights".  One of them: what was the most unsettling thing he'd worked on?
"To me, this was it," John said, showing a slide of "La Llorona's" drowned offspring.  "(As a father), the kids in the river.  To me, that was most disturbing."
Unsettling, entertaining, educational, and above all, fun, the fifth-anniversary edition of ScareLA was one we're glad we didn't miss!  Can't wait to see how people use some of these great ideas this Halloween.